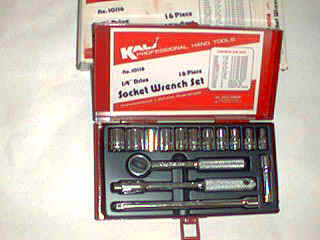 Below is a current inventory of our hand tools. The first dollar figure is the wholesale cost.
You get a 75% discount from the wholesale Price.
We are liquidating the complete hand tool inventories of 37 auto parts stores! The liquidation price is only 25% of the listed jobber wholesale price. So take 75% off of the prices listed below.
Inventories change daily. First come first served.
For over 25 years KAL TOOLS has been the leading supplier of Hand Tools to the U.S. Government agencies, worldwide. Built to rigid Federal Specifications, Every Kal Brand Tool is covered by a Full Unconditional Lifetime Guarantee.
These are Premium "Mechanics Grade" Tools!
ID Number***Quantity***Description****WholesaleCost*****Ext.cost Cost*
100-MT 3 DISPLAY BOARD $60.33 $180.99
1006 141 1/4" DR.6T SOCKET ST.3/16 $1.23 $173.43
1007 92 1/4"DR. 6PT. SOCKET STD.7/32" $1.23 $113.16
1008 54 1/4"DR. 6PT. SOCKET STD. 1/4" $1.26 $68.04
1008-M 73 1/4"DR 6PT. SOCKET STD. 4MM $1.17 $85.41
1008-S 1 1/4"DR 8PT 1/4" $1.24 $1.24
1009 102 1/4"DR. 6PT SOCKET STD. 9/32" $1.26 $128.52
1009-M 88 1/4" DR. 6PT SOCKET STD. 4.5MM $1.17 $102.96
101 3 1/4" 3/8" 1/2" ATTACHMENTS $308.02 $924.06
101-MT 5 DISPLAY BOARD $36.30 $181.50
1010 67 1/4"DR. 6PT SOCKET STD. 5/16" $1.26 $84.42
1010-M 115 1/4"DR. 6PT SOCKET STD. 5MM $1.17 $134.55
1010-S 16 1/4" 8PT 5/16 $1.24 $19.84
1010-T 4 1/4" 12PT 5/16" $1.20 $4.80
1011 117 1/4"DR. 6PT SOCKET STD. 11/32" $1.32 $154.44
1011-M 76 1/4" DR. 6PT SOCKET STD. 5.5MM $1.21 $91.96
1011-T 2 1/4" 12PT 11/32" $1.05 $2.10
10111 4 11PC 1/4" SOCKET SET $22.85 $91.40
10116 7 16PC SOCKET SET 1/4DRV $30.94 $216.58
1012 59 1/4"DR 6PT SOCKET STD. 3/8" $1.32 $77.88
1012-M 71 1/4"DR. 6PT SOCKET STD.6MM $1.21 $85.91
1012-T 1 1/4" 12PT 3/8" $1.24 $1.24
10125 9 25PC SOCKET SET 1/4DR $49.38 $444.42
10130 4 10PC SOCKET SET 1/4"DRV SAE $18.25 $73.00
1014 66 1/4"DR 6PT SOCKET STD. 7/16" $1.32 $87.12
1014-M 54 1/4"DR 6PT SOCKET STD. 7MM $1.24 $66.96
1014-T 1 1/4 12PT 7/16" $1.24 $1.24
1016 83 1/4"DR. 6PT SOCKET STD. 1/2" $1.31 $108.73
1016-M 79 1/4"DR 6PT SOCKET STD. 8MM $1.24 $97.96
1018 70 1/4"DR 6PT SOCKET STD. 9/16" $1.33 $93.10
1018-M 114 1/4" DR. 6PT SOCKET STD. 9MM $1.24 $141.36
1018-T 1 1/4" 12PT 9/16" $1.24 $1.24
102 2 METRIC SOCKETS & WRENCHES $275.09 $550.18
102-MT 5 DISPLAY BOARD $51.96 $259.80
1020-M 30 1/4"DR. 6PT SOCKET STD. 10MM $1.26 $37.80
10211 7 11PC SAE 3/8" SOCKET SET $28.56 $199.92
10212 10 13PC 3/8" SOCKET SET $21.62 $216.20
10213 3 13PC METRIC 3/8"DR SKT SET $33.22 $99.66
10219 5 19PC SOCKET SET 3/8"DRV. SAE $47.65 $238.25
1022-M 97 1/4"DR 6PT SOCKET STD. 11MM $1.26 $122.22
********* Page Number: 2
ID Number******Quantity******Description*********************Cost*****Ext Cost*
10220 8 10 PC SKT SET 3/8-7/8 $24.38 $195.04
10221 1 10PC 3/8DR METRIC DP SKT SET $22.59 $22.59
10222 4 9PC SOCKET SET 9MM TO 19MM $15.25 $61.00
10223 12 13PC SOCKET SET 3/8" METRIC $21.91 $262.92
10225 2 13PC HEX BIT SOCKET 3/8DRV SET $28.87 $57.74
10226 4 7PC HEX BIT SET $17.24 $68.96
10228 8 8PC CROWS FOOT SET $39.08 $312.64
1024-M 93 1/4"DR 6PT SOCKET STD. 12MM $1.26 $117.18
10321 10 21PC WRENCH SET SAE $41.74 $417.40
1049 40 1/4"DR. REVERSIBLE RATCHET 5" $9.81 $392.40
1049-K 4 1/4"DRIVE RATCHET REPAIR KIT $3.90 $15.60
105 3 3/4" DRIVE SOCKETS AND ATTACHM $478.44 $1,435.32
105-MT 2 DISPLAY BOARD $42.06 $84.12
10506 6 6PC SKTS SET $31.03 $186.18
10508 2 8PC SOCKET DEEP 1/2"DRV $31.03 $62.06
10510 2 13PC SOCKET SET 1/2" DRV 10 - $27.43 $54.86
10513 2 10PC SOCKET SAE $56.61 $113.22
10514 3 14PC 1/2" DRV SOCKET SET $45.62 $136.86
1058 7 1/4"DRIVE ADAPTOR (1/4"F X 3/8 $2.31 $16.17
1059 52 1/4"DRIVE EXTENSION BAR 2" $2.00 $104.00
1060 36 1/4"DRIVE EXTENSION BAR 3 " $2.41 $86.76
1061 36 1/4"DRIVE EXTENSION BAR 6" $2.63 $94.68
1064 25 1/4"DRIVE FLEXIBLE BAR 6" $5.41 $135.25
1066 37 1/4"DRIVE HINGED FLEX HANDLE 6 $4.57 $169.09
1067 57 1/4"DRIVE SPINNER HANDLE 6" $3.23 $184.11
1068 3 1/4" HINGED FLEX HANDLE 6" $4.57 $13.71
1069 35 1/4"DRIVE HI TORQ RATCHET HDLE $11.41 $399.35
1069-K 4 1/4" DRIVE RATCHET REPAIR KIT $3.96 $15.84
1070 46 1/4"DRIVE UNIVERSAL JOINT $5.53 $254.38
1080 11 1/4"DRIVE SPEEDER HANDLE 15" $8.76 $96.36
10811 1 11PC SOCKET 3/4" DRV SET $96.05 $96.05
10821 1 21PC SOCKET 3/4" SET $280.27 $280.27
1085 3 1/4"DRIVE SLIDING T HANDLE 5" $3.06 $9.18
10929 4 TOOL BOX HIP ROOF 19" $28.85 $115.40
10942 2 TOOL CHEST 2DRAWER 22" $89.45 $178.90
10943 1 TOOL CHEST 3DRAWER 22" $111.92 $111.92
1106 87 1/4"DR. 6PT SOCKET DP. 3/16" $1.95 $169.65
1107 59 1/4"DRIVE6PT SOCKET DP 7/32 $2.01 $118.59
1108 52 1/4"DR. 6PT SOCKET DP. 1/4" $2.10 $109.20
1108-M 72 1/4"DR 6PT SOCKET DP. 4MM $2.16 $155.52
1109 69 1/4"DR. 6PT SOCKET DP. 9/32" $2.13 $146.97
Page Number: 3
ID Number******Quantity******Description*********************Cost*****Ext Cost*
1109-M 91 1/4"DR. 6PT SOCKETT 3.P 4.5MM $2.17 $197.47
1110 44 1/4"DR. 6PT SOCKET DP 5/16" $2.14 $94.16
1110-M 92 1/4"DR. 6PT SOCKET DP. 5MM $2.19 $201.48
1111 93 1/4"DR. 6PT SOCKET DP. 11/32" $2.17 $201.81
1111-M 28 1/4"DR 6PT SOCKET DP 5.5MM $2.28 $63.84
1112 51 1/4"DR. 6PT SOCKET DP. 3/8" $2.26 $115.26
1112-M 88 1/4" DR. 6PT SOCKET DP. 6MM $2.34 $205.92
1114 59 1/4"DR 6PT SOCKET DP. 7/16" $2.35 $138.65
1114-M 54 1/4"DR. 6PT SOCKET DP. 7MM $2.37 $127.98
1116 90 1/4"DR. 6PT SOCKET DP. 1/2" $2.38 $214.20
1116-M 48 1/4" DR. 6PT SOCKET DP. 8MM $2.40 $115.20
1118 8 1/4"DR 6PT SOCKET DP. 9/16" $2.40 $19.20
1118-M 80 1/4"DR 6PT SOCKET DP. 9MMM $2.49 $199.20
1120-M 26 1/4"DR. 6PT SOCKET DP. 10MM $2.52 $65.52
1122-M 85 1/4"DR. 6PT SOCKET DP. 11MM $2.53 $215.05
1124-M 67 1/4"DR 6PT SOCKET DP. 12MM $2.56 $171.52
120 2 PLIERS & CUTTERS $183.24 $366.48
120-MT 2 DISPLAY BOARD $46.30 $92.60
12013 1 3/8DRV 13PC SKT SET MM $32.60 $32.60
1204-P 7 SET 4PC SPARKPLUG TOOL W/POUCH $20.33 $142.31
1205-P 5 SET 4PC SPARKPLUG TOOL W/POUCH $26.56 $132.80
1207-M 86 3/8"DR 6PT SOCKET STD. 7MM $1.57 $135.02
1207-MT 2 3/8"DRV. 12PT SOCKET STD. 7MM $1.57 $3.14
1208 20 3/8" DR 12PT SOCKET STD 1/4" $1.54 $30.80
1208-M 50 3/8" DRIVE 6PT SOCKET STD 8MM $1.57 $78.50
1208-MT 9 3/8" DR 12PT SOCKET 8MM $1.60 $14.40
1209-M 99 3/8" DR 6PT SOCKET 9MM $1.63 $161.37
1209-MT 2 3/8" DR 12PT SOCKET 9MM $1.63 $3.26
1210 30 3/8" 12 PT 5/16 $1.54 $46.20
1210-M 37 3/8 DR 6PT 10MM $1.66 $61.42
1210-MT 17 3/8 DR 12PT 10MM $1.66 $28.22
1211-M 80 3/8 DR 6PT 11MM $1.69 $135.20
1211-MT 10 3/8 DR 12 PT 11MM $1.69 $16.90
1212 78 3/8 DR 12 PT 3/8 $1.57 $122.46
1212-H 76 3/8 DR 6PT 3/8 $1.59 $120.84
1212-M 58 3/8 DR 6PT 12MM $1.72 $99.76
1212-MT 11 3/8 12PT 12MM $1.72 $18.92
1213-M 50 3/8 6PT 13MM $1.77 $88.50
1213-MT 20 3/8 12PT 13MM $1.78 $35.60
1214 54 3/8 12PT 7/16 $1.57 $84.78
1214-H 54 3/8 6PT 7/16 $1.62 $87.48
Page Number: 4
ID Number******Quantity******Description*********************Cost*****Ext Cost*
1214-M 39 3/8 6PT 14MM $1.80 $70.20
1214-MT 6 3/8 12PT 14MM $1.80 $10.80
1215-M 28 3/8 6PT 15MM $1.84 $51.52
1215-MT 3 3/8 12PT 15MM $1.83 $5.49
1216 62 3/8 12PT 1/2 $1.42 $88.04
1216-H 54 3/8 6PT 1/2 $1.63 $88.02
1216-M 59 3/8 6PT 16MM $1.87 $110.33
1216-MT 3 3/8 12PT 16MM $1.84 $5.52
1217-M 52 3/8 6PT 17MM $1.92 $99.84
1217-MT 3 3/8 12PT 17MM $1.89 $5.67
1218 90 3/8 12PT 9/16 $1.48 $133.20
1218-H 56 3/8 6PT 9/16 $1.66 $92.96
1218-M 48 3/8 6PT 18MM $1.95 $93.60
1218-MT 9 3/8 12PT 18MM $1.93 $17.37
1219-M 77 3/8 6PT 19MM $1.99 $153.23
1219-MT 1 3/8 12PT 19MM $1.98 $1.98
1220 101 3/8 12PT 5/8 $1.63 $164.63
1220-H 56 3/8 6PT 5/8 $1.77 $99.12
1222 125 3/8 12PT 11/16 $1.69 $211.25
1222-H 67 3/8 6PT 11/16 $1.80 $120.60
1224 109 3/8 12PT 3/4 $1.81 $197.29
1224-H 69 3/8 6PT 3/4 $1.92 $132.48
1224-M 2 3/8"DRV 6PT SOCKET 3/4" $1.69 $3.38
1226 141 3/8 12PT 13/16 $1.92 $270.72
1226-H 88 3/8 6PT 13/16 $1.95 $171.60
1228 104 3/8 12PT 7/8 $2.02 $210.08
1228-H 59 3/8 6PT 7/8 $2.02 $119.18
1230 60 3/8 12PT 15/16 $2.14 $128.40
1232 78 3/8 12PT 1" $2.40 $187.20
1233 47 3/8 12PT OIL PRESS 1 & 1-1/16" $6.00 $282.00
1243 10 RATCHET DOUBLE END 1/4 X 3/8 $22.00 $220.00
1244 4 RATCHET DBL END 3/8 X 1/2 $24.04 $96.16
1249 26 3/8 RATCHET STD 8" $12.30 $319.80
1249-K 4 3/8 DRIVE RATCHET REPAIR KIT $4.50 $18.00
1250 17 3/8 DRIVE RATCHET FLEX HEAD 11 $18.85 $320.45
1251 32 3/8 DRV RATCHET STUBBY 4" $11.54 $369.28
1257 42 3/8 DRV ADAPTOR 3/8 X 1/4" $2.25 $94.50
1258 49 3/8 DRV ADAPTOR 3/8 X 1/2 $2.52 $123.48
1259 48 3/8 DRV EXTENSION BAR 1-3/4" $2.67 $128.16
1260 48 3/8 DRV EXTENSION BAR 3" $2.80 $134.40
1262 39 3/8 EXTENSION BAR 6" $3.45 $134.55
Page Number: 5
ID Number******Quantity******Description*********************Cost*****Ext Cost*
1264 41 3/8 DRV EXTENSION BAR 9" $4.78 $195.98
1265 31 3/8 DRV EXTENSION BAR 12" $5.68 $176.08
1266 34 3/8 DRV HINGED FLEX HANDLE 9" $8.18 $278.12
1268 64 3/8 EXTENSION BAR 18" $8.37 $535.68
1269 21 3/8 DR RATCHET HIGH TORQUE 10" $21.73 $456.33
1269-K 10 3/8 DR RATCHET REPAIR KIT $7.80 $78.00
1270 41 3/8 UNIVERSAL JOINT $6.55 $268.55
1273 110 3/8 DRV 12PT U-JOINT 3/8" $6.14 $675.40
1274 46 3/8 DRV 12PT U-JOINT 7/16" $6.14 $282.44
1275 43 3/8 DRV 12PT U-JOINT 1/2" $6.24 $268.32
1276 31 3/8 DRV 12PT U-JOINT 9/16" $6.91 $214.21
1277 69 3/8 DRV 12PT U-JOINT 5/8" $6.91 $476.79
1278 83 3/8 DRV 12PT U-JOINT 11/16" $6.91 $573.53
1279 75 3/8 DRV 12PT U-JOINT 3/4" $7.05 $528.75
1280 7 3/8" SPEEDER HANDLE 17" $9.62 $67.34
1284 1 3/8"DRV EXTN HEX POWER 18" $7.42 $7.42
1285 2 3/8" SLIDING T-HANDLE 8" $5.85 $11.70
1288 2 3/8 EXTN END WOBBLE 20" $13.15 $26.30
1292 60 3/8 DR EXT SGL END WOBBLE 3" $3.74 $224.40
1293 40 3/8 EXTEN END WOBBLE 6" $5.23 $209.20
1294 40 3/8 DR EXT SGL END WOBBLE 9" $6.18 $247.20
130 1 SAE WRENCHES AND SETS $188.92 $188.92
130-MT 1 DISPLAY BOARD $33.27 $33.27
13008 2 3/8"DRV 8PC SCKT SET METRIC $21.25 $42.50
13009 2 3/8DRV 6PT 9PC DEEP SOCKET SET $23.29 $46.58
1309-M 75 3/8 DR 6PT DEEP 9MM $2.20 $165.00
1310-M 59 3/8 6PT DEEP 10MM $2.40 $141.60
1311-M 77 3/8 DR 6PT DEEP 11MM $2.44 $187.88
1312 64 3/8 12PT DEEP 3/8" $2.70 $172.80
1312-H 54 3/8 6PT DEEP 3/8" $2.32 $125.28
1312-M 41 3/8 6PT DEEP 12MM $2.53 $103.73
1313-M 39 3/8 6PT DEEP 13MM $2.55 $99.45
1314 54 3/8 12PT DEEP 7/16 $2.73 $147.42
1314-H 43 3/8 6PT DEEP 7/16 $2.38 $102.34
1314-M 35 3/8 6PT DEEP 14MM $2.64 $92.40
1315-M 44 3/8 6PT DEEP 15MM $2.79 $122.76
1316 50 3/8 12PT DEEP 1/2 $2.74 $137.00
1316-H 61 3/8 6PT DEEP 1/2" $2.46 $150.06
1316-M 9 3/8" 6PT DEEP 16MM $3.01 $27.09
1317-M 42 3/8 6PT DEEP 17MM $3.00 $126.00
1318 53 3/8 12PT DEEP 9/16 $2.63 $139.39
Page Number: 6
ID Number******Quantity******Description*********************Cost*****Ext Cost*
1318-H 34 3/8 6PT DEEP 9/16" $2.56 $87.04
1318-M 14 3/8" 6PT DEEP 18MM $3.10 $43.40
1319-M 56 3/8 6PT DEEP 19MM $3.22 $180.32
1320 73 3/8 12PT DEEP 5/8 $2.83 $206.59
1320-H 54 3/8 6PT DEEP 5/8 $2.77 $149.58
1320-HP 44 3/8 6PT SPARK PLUG 5/8" $3.15 $138.60
1322 92 3/8 DR 12PT DEEP 11/16" $2.88 $264.96
1322-H 53 3/8 6PT DEEP 11/16 $2.91 $154.23
1324 56 3/8 12PT DEEP 3/4 $3.10 $173.60
1324-H 38 3/8 6PT DEEP 3/4 $3.09 $117.42
1326 65 3/8 12PT DEEP 13/16 $3.52 $228.80
1326-H 52 3/8 6PT DEEP 13/16 $3.43 $178.36
1326-HP 46 3/8 6PT SPARKPLUG 13/16 $3.15 $144.90
1328 76 3/8 12PT DEEP 7/8 $3.75 $285.00
1328-H 58 3/8 6PT DEEP 7/8 $3.73 $216.34
1328-HP 53 3/8 6PT SPARKPLUG 18MM $3.37 $178.61
1330-UP 10 3/8 6PT U-JOINT 5/8" $6.97 $69.70
1336-UP 8 3/8" U-JOINT 13/16" $6.97 $55.76
140 1 OPEN END BOX SPEC WRENCHES $209.96 $209.96
140-MT 2 DISPLAY BOARD $40.02 $80.04
150-MT 1 DISPLAY BOARD $32.72 $32.72
1510-M 40 1/2 6PT 10MM $1.89 $75.60
1511-M 77 1/2 6PT 11MM $1.92 $147.84
1512 96 1/2 12PT 3/8 $1.80 $172.80
1512-H 65 1/2 6PT 3/8 $1.80 $117.00
1512-M 55 1/2 6PT 12MM $2.02 $111.10
1513-M 50 1/2 6PT 13MM $2.05 $102.50
1514 101 1/2 12PT 7/16 $1.86 $187.86
1514-H 82 1/2 6PT 7/16 $1.81 $148.42
1514-M 42 1/2 6PT 14MM $2.07 $86.94
1515-M 32 1/2 12PT 15MM $2.11 $67.52
1516 47 1/2 12PT 1/2 $1.96 $92.12
1516-H 60 1/2 6PT 1/2 $1.99 $119.40
1516-M 58 1/2 6PT 16MM $2.22 $128.76
1517-M 52 1/2 6PT 17MM $2.26 $117.52
1518 59 1/2 12PT 9/16 $1.98 $116.82
1518-H 39 1/2 6PT 9/16 $2.10 $81.90
1518-M 49 1/2 6PT 18MM $2.32 $113.68
1519 3 1/2 6PT 1" SAE $5.00 $15.00
1519-M 48 1/2 6PT 19MM $2.34 $112.32
1520 81 1/2 12PT 5/8 $1.99 $161.19
Page Number: 7
ID Number******Quantity******Description*********************Cost*****Ext Cost*
1520-H 43 1/2 6PT 5/8 $2.02 $86.86
1521-M 37 1/2 6PT 21MM $2.40 $88.80
1522 80 1/2 12PT 11/16 $2.11 $168.80
1522-H 49 1/2 6PT 11/16 $2.14 $104.86
1522-M 45 1/2 6PT 22MM $2.56 $115.20
1523-M 52 1/2 6PT 23MM $2.70 $140.40
1524 73 1/2 12PT 3/4 $2.20 $160.60
1524-H 106 1/2 6PT 3/4 $2.28 $241.68
1524-M 48 1/2 6PT 24MM $2.77 $132.96
1525-M 3 1/2 12PT 25MM $2.85 $8.55
1526 72 1/2 12PT 13/16 $2.43 $174.96
1526-H 50 1/2 6PT 13/16 $2.49 $124.50
1526-M 65 1/2 6PT 26MM $3.33 $216.45
1527-M 39 1/2 6PT 26MM $3.54 $138.06
1528 92 1/2 12PT 7/8 $2.61 $240.12
1528-H 64 1/2 6PT 7/8 $2.62 $167.68
1530 43 1/2 12PT 15/16 $2.80 $120.40
1530-H 56 1/2 6PT 15/16 $2.70 $151.20
1530-M 39 1/2 6PT 30MM $4.12 $160.68
1532 80 1/2 12PT 1" $3.07 $245.60
1532-H 68 1/2" 6PT 1" $2.68 $182.24
1532-M 32 1/2 6PT 32MM $4.62 $147.84
1534 50 1/2 12PT 1-1/16 $3.45 $172.50
1536 43 1/2 12PT 1-1/18 $3.82 $164.26
1536-M 38 1/2 6PT 36MM $6.27 $238.26
1538 61 1/2 12PT 1-3/16 $4.21 $256.81
1540 32 1/2 12PT 1-1/4 $4.35 $139.20
1547 2 1/2"DRV RATCHET DELX REVR 1/2" $24.93 $49.86
1548 6 1/2" 12PT 1-1/2" $7.69 $46.14
1549 28 1/2 RATCHET 10" $17.18 $481.04
1549-K 9 1/2 RATCHET REPAIR KIT $7.93 $71.37
155 1 ADJ PIPE WRENCHES $222.67 $222.67
1550 50 1/2 RATCHET FLEX HEAD 12" $21.97 $1,098.50
1551 26 1/2 RATCHET 15" $25.16 $654.16
1555 67 1/2 SOCKET DRAG LINK 46/64" $4.00 $268.00
1556 21 1/2 DRAG LINK 15/16" $4.00 $84.00
1557 23 1/2 ADPT 1/2"F X 3/8"M $3.03 $69.69
1558 39 1/2 ADPT 1/2"F X 3/4"M $5.40 $210.60
1559 12 1/2 STUD REMOVER $23.78 $285.36
1560 45 1/2 EXTN BAR 2" $3.22 $144.90
1561 17 1/2"DR EXTN BAR 5" $4.35 $73.95
Page Number: 8
ID Number******Quantity******Description*********************Cost*****Ext Cost*
1562 43 1/2 EXTN BAR 10" $5.67 $243.81
1563 48 1/2 EXTN BAR 20" $12.00 $576.00
1566 33 1/2 HINGED FLEX HANDLE 10" $10.69 $352.77
1567 18 1/2"DRV. HINGED FLEX HANDLE 15 $16.39 $295.02
1569 5 1/2DR HIGH TORQUE RATCHET 12" $24.72 $123.60
1570 31 1/2"DRV UNIVERSAL JOINT $8.54 $264.74
1580 16 1/2"DRV. SPEEDER HANDLE 16" $10.15 $162.40
1581 6 1/2"DRV EXTN $2.98 $17.88
1583 2 1/2"DRV EXTN $4.66 $9.32
1585 9 1/2 SLIDING T HANDLE $7.35 $66.15
1588 52 1/2 EXTN DBL END WOBBLE 20" $15.66 $814.32
160 1 IMPACT SKTS ATTACHMENTS AND SE $324.67 $324.67
160-MT 4 DISPLAY BOARD $50.83 $203.32
1610-M 69 1/2 6PT DEEP 10MM $4.59 $316.71
1611-M 88 1/2 6PT DEEP 11MM $4.66 $410.08
1612-M 90 1/2 6PT DEEP 12MM $4.71 $423.90
1613-M 66 1/2 6PT DEEP 13MM $4.80 $316.80
1614-M 53 1/2 6PT DEEP 14MM $4.84 $256.52
1615-M 52 1/2 6PT DEEP 15MM $4.89 $254.28
1616 46 1/2 12PT DEEP 1/2" $3.46 $159.16
1616-M 66 1/2 6PT DEEP 16MM $4.92 $324.72
1617-M 55 1/2 6PT DEEP 17MM $4.95 $272.25
1618 55 1/2 12PT DEEP 9/16 $3.52 $193.60
1618-M 52 1/2 6PT DEEP 18MM $5.28 $274.56
1619-M 74 1/2 6PT DEEP 19MM $5.43 $401.82
1620 69 1/2 12PT DEEP 5/8" $3.61 $249.09
1621-M 45 1/2 6PT DEEP 21MM $5.58 $251.10
1622 70 1/2 12PT DEEP 11/16 $3.82 $267.40
1622-M 58 1/2 6PT DEEP 22MM $5.95 $345.10
1624 55 1/2" 12PT DEEP 3/4 $4.43 $243.65
1625-HP 63 1/2 12PT DEEP SPARKPLUG 5/8 $3.45 $217.35
1626 47 1/2" 12PT DEEP 13/16 $4.43 $208.21
1626-HP 38 1/2 SPARKPLUG 13/16" $3.45 $131.10
1627-HP 34 1/2 6PT SPARKPLUG 13/16 $7.45 $253.30
1628 60 1/2 12PT DEEP 7/8 $4.60 $276.00
1628-HP 53 1/2 6PT LARGE SPARKPLUG 7/8 $7.45 $394.85
1630 47 1/2 12PT DEEP 15/16" $5.10 $239.70
1630-H 6 1/2 12PT DEEP SOCKET $4.86 $29.16
1632 49 1/2 12PT DEEP 1" $5.55 $271.95
1634 44 1/2 12PT DEEP 1-1/16" $5.95 $261.80
1636 7 1/2 12PT DEEP 1-1/8" $6.57 $45.99
Page Number: 9
ID Number******Quantity******Description*********************Cost*****Ext Cost*
165 1 3/4" DRIVE IMP SOCKETS AND ACC $495.97 $495.97
170 1 ADJ WRENCHES $132.38 $132.38
170-MT 3 DISPLAY BOARD $35.23 $105.69
180 1 HAMMERS & MALLETS $121.89 $121.89
180-MT 5 DISPLAY BOARD $35.83 $179.15
1814 31 3/4 12PT 7/8 $5.84 $181.04
1815 23 3/4 12PT 15/16 $5.91 $135.93
1816 41 3/4 12PT 1" $6.00 $246.00
1817 26 3/4" 12PT 1&1/16 $7.84 $203.84
1818 24 3/4 12PT 1-1/8 $6.75 $162.00
1819 29 3/4 12PT 1-3/16" $6.90 $200.10
1820 27 3/4" 12PT 1-1/4 $7.28 $196.56
1821 25 3/4" 12PT 1-5/16 $7.57 $189.25
1822 28 3/4 12PT 1-3/8" $7.87 $220.36
1823 27 3/4 12PT 1-7/16" $8.40 $226.80
1824 21 3/4 12PT 1-1/2 $9.31 $195.51
1825 52 3/4" 12PT 1-9/16 $10.90 $566.80
1826 40 3/4 12PT 1-5/8 $10.12 $404.80
1827 32 3/4" 12PT 1-11/16 $11.08 $354.56
1828 29 3/4 12PT 1-3/4" $11.70 $339.30
1829 26 3/4 12PT 1-13/16" $12.58 $327.08
1830 34 3/4 12PT 1-7/8 $13.62 $463.08
1832 28 3/4" 12PT 2" $20.13 $563.64
1834 31 3/4 12PT 2-1/8" $28.28 $876.68
1835 31 3/4 12PT 2-3/16" $28.64 $887.84
1836 26 3/4" 12PT 2-1/4" $25.56 $664.56
1838 34 3/4 12PT 2-3/8" $31.26 $1,062.84
1849 17 3/4" HEAVY DUTY RATCHET 20" $21.13 $359.21
1849-K 23 3/4 RATCHET REPAIR KIT $19.49 $448.27
185-MT 1 DISPLAY BOARD $28.58 $28.58
1857 27 3/4 ADPT 3/4"F X 1/2"M $6.90 $186.30
1858 20 3/4 ADPT 3/4"F X 1"M $10.62 $212.40
1860 28 3/4 EXTENSION BAR 3" $10.17 $284.76
1862 14 3/4" EXTN BAR 8" $14.42 $201.88
1863 23 3/4 EXTN BAR 16" $16.96 $390.08
1866 11 3/4 HINGED FLEX HANDLE 18" $29.28 $322.08
1870 29 3/4" UNIVERSAL JOINT $27.56 $799.24
1885 20 3/4 SLIDING T-JOINT 20" $19.09 $381.80
190 2 PROFESSIONAL SCREWDRIVER SET $131.69 $263.38
190-MT 11 DISPLAY BOARDS $35.50 $390.50
192 1 TORX BOARD ASSORTMENT $158.68 $158.68
Page Number: 10
ID Number******Quantity******Description*********************Cost*****Ext Cost*
192-MT 4 DISPLAY BOARD $41.82 $167.28
195 1 NUT DRIVERS PUNCHES AND CHISEL $162.18 $162.18
195-MT 6 DISPLAY BOARD $52.72 $316.32
197 1 FILES & RASPS $87.07 $87.07
197-MT 14 DISPLAY BOARD $32.77 $458.78
200 4 UNIVERSAL ACCESSORY PEG BOARD. $24.13 $96.52
200-MT 5 PEG BOARD DISPLAY $24.13 $120.65
2026 8 1" 12PT 1-5/8 $15.62 $124.96
2027 11 1" 12PT 1-11/16" $17.31 $190.41
2028 10 1" 12PT 1-3/4" $17.79 $177.90
2029 7 1" 12PT 1-13/16" $20.15 $141.05
2030 5 1" 12PT 1-7/8" $23.24 $116.20
2032 7 1" 12PT 2" $25.49 $178.43
2034 6 1" 12PT 2-1/8 $28.31 $169.86
2035 4 1" 12PT 2-3/16" $31.69 $126.76
2036 6 1" 12PT 2-1/4 $35.99 $215.94
2038 9 1"DR 12PT 2-1/4 $40.48 $364.32
2040 2 1" 12PT 2-1/2" $47.98 $95.96
2041 7 1" 12PT 2-9/16 $53.98 $377.86
2042 4 1" 12PT 2-5/8 $55.83 $223.32
2044 3 1" 12PT 2-3/4 $59.98 $179.94
2047 5 1" 12PT 2-15/16 $67.40 $337.00
2048 6 1" 12PT 3" $76.47 $458.82
2049 11 1" RATCHET HEAVY DUTY REVER 22 $80.50 $885.50
2057 5 1" ADPT TO 3/4 $19.61 $98.05
2061 4 1" EXTN BAR 6" $25.76 $103.04
2063 3 1" DR EXTN BAR 16" $31.16 $93.48
2066 3 1" DR HINGED FLEX HANDLE 22" $38.98 $116.94
2085 1 WRENCH OFFSET DISTRIBUTOR 1/2" $9.46 $9.46
2217 37 WRENCH LG BOX 45" HD 3/8 X 7/1 $4.53 $167.61
2220 29 WRENCH LG BOX 45 HD 7/16 X 1/2 $5.00 $145.00
2223 29 WRENCH LG BOX 45 HD 1/2 X 9/16 $5.19 $150.51
2231 36 WRENCH LG BOX 45 HD 5/8 X 11/1 $6.06 $218.16
2236 10 WR LG BOX 45 HD 3/4 X 25/32" $6.37 $63.70
2238 29 WR. LG. BOX 45" HD 3/4" X 7/8" $7.06 $204.74
2241 1 WRENCH LG BOX 45HD 13/16 X 7/8 $7.35 $7.35
2311 1 WRENCH SHT BOX 45HD 1/4 X 9/64 $3.24 $3.24
2313 1 WRENCH SHT BOX 45HD 5/16 X 11/ $3.46 $3.46
2317 2 WRENCH LG BOX 15HD 3/8 X 7/16 $3.98 $7.96
2323 5 WRENCH SHT BOX 45HD 1/2 X 9/16 $4.83 $24.15
2332 5 WRENCH SHT BOX 45HD 5/8 X 3/4 $5.16 $25.80
Page Number: 11
ID Number******Quantity******Description*********************Cost*****Ext Cost*
235 1 SOCKET $5.24 $5.24
235-FP 9 PLIER IGNITION 5" $5.81 $52.29
235-HP 167 PLIER IGNITION $3.52 $587.84
238-PG 26 PLIER GROVE JOINT 8" $7.18 $186.68
240-PG 15 PLIER GROOVE JOINT 10" $9.00 $135.00
242-PG 26 PLIER GROVE JOINT 12" $13.12 $341.12
245-PG 21 PLIER GROOVE JOINT 15" $20.31 $426.51
252-PG 43 PLIER HOSE CLAMP 8" $8.50 $365.50
2520 1 WR LG BOX 15 HD 7/16 X 1/2 $4.26 $4.26
2543 1 WR LG BOX 15HD 7/8 X 15/16" $7.36 $7.36
2546 2 WRLG BOX 15 HD 15/16 X 1" $10.52 $21.04
2552 1 WR LG BOX 15HD 1-1/16 X 1-1/8 $18.24 $18.24
2585 11 WRENCH OFFSET DISTRIBUTOR 1/2" $9.46 $104.06
2586 6 WRENCH OFFSET DISTRIBUTOR 9/16 $9.58 $57.48
2700 4 3PC FLARE NUT WRENCH SET $17.86 $71.44
2717 28 WRENCH FLARE NUT 3/8 X 7/16" $5.89 $164.92
2723 29 WRENCH FLARE NUT 1/2 X 9/16" $6.60 $191.40
2731 22 WRENCH FLARE NUT 5/8 X 11/16" $8.07 $177.54
275-PG 54 PLIER SLIP JOINT 5" $4.78 $258.12
276-PG 14 PLIER SLIP JOINT 6" $5.01 $70.14
278-PG 20 PLIER SLIP JOINT 8" $5.73 $114.60
280-PG 34 PLIER SLIP JOINT 10" $8.08 $274.72
2800 4 3PC WRENCH FLARE NUT SET $17.68 $70.72
2810 12 WRENCH FLARE NUT 10 X 11MM $6.38 $76.56
2812 12 WRENCH FLARE NUT 12X13MM $5.94 $71.28
2815 14 FLARE NUT WRENCH 15 X 17MM $7.24 $101.36
2826 31 WRENCH BOX END CURVE 5/8 X 9/1 $6.81 $211.11
2830 10 WRENCH BOX END RATCHET 1/4 X 5 $3.31 $33.10
2832 13 3/8"DRV SKT HEX BIT 1/8 $2.26 $29.38
2834 8 WR BOX END RATCHET 1/2 X 9/16 $7.57 $60.56
2836 7 WRENCH BOX END RATCHET 5/8 X 3 $6.66 $46.62
2840 1 4PC WRENCH RATCHET BOX SET $17.82 $17.82
2911 58 3/8 #1 PHILLPS $2.43 $140.94
2912 48 3/8 #2 PHILLIPS $2.52 $120.96
2913 8 3/8" SCREWDRIVER PHILLIPS #3 $3.00 $24.00
2922 4 3/8 SCREDRIVER FLAT 3/16" $3.00 $12.00
2925 63 3/8 FLAT 1/4" $2.76 $173.88
2932 5 3/8"DRV SKT HEX BIT 1/8" $2.26 $11.30
2936 45 3/8 HEX BIT 5/32" $2.32 $104.40
2938 42 3/8 HEX BIT 3/16 $2.37 $99.54
2940 52 3/8 HEX BIT 7/32 $2.44 $126.88
97 Page Number: 12
ID Number******Quantity******Description*********************Cost*****Ext Cost*
2942 42 3/8 HEX BIT 1/4 $2.53 $106.26
2944 38 3/8 HEX BIT 5/16 $2.65 $100.70
2946 38 3/8 HEX BIT 3/8 $2.70 $102.60
2953-M 7 3/8" SKT HEX BIT 3MM $2.50 $17.50
2954-M 5 3/8DRV HEX BIT 4MM $3.06 $15.30
2955-M 15 3/8DRV SKT HEX BIT 5MM $2.56 $38.40
2956-M 11 3/8"DRV SKT HEX BIT 6MM $2.58 $28.38
2957-M 10 3/8DRV SKT HEX BIT 7MM $2.61 $26.10
2958-M 11 3/8DRV SKT HEX BIT 8MM $2.62 $28.82
2960-M 15 3/8DRV SKT HEX BIT 10MM $2.74 $41.10
3006 1 6PC WRENCH COMBO SET SAE $27.90 $27.90
3007 26 6PC WRENCH COMBO SET 7/16-3/4 $25.10 $652.60
3008 33 8PC WRENCH SET 1/4" TO 1&1/16 $28.26 $932.58
3011 4 11PC WRENCH SET SAE $59.83 $239.32
3012 1 11PC WRENCH COMBO SET SAE $65.13 $65.13
3013 5 11PC WRENCH COMBO SET SAE $52.61 $263.05
304-PG 40 DIAG. CUTTER 4" $8.95 $358.00
305-PG 43 DIAG. CUTTER 5" $8.20 $352.60
306-PG 89 DIAG. CUTTER 6" $8.34 $742.26
307-PG 14 PLIER DIAG CUTTING 7" PLAST GR $10.68 $149.52
3107 2 6PC WRENCH COMBO SET MM $19.98 $39.96
3111 3 11PC WRENCH COMBO SET 7MM - 19 $40.07 $120.21
3112 7 11PC WRENCH SET SAE $46.74 $327.18
3136 1 6PC WRENCH COMBO FLEX HEAD MET $31.64 $31.64
316-PG 11 PLIER DIAG. CUTTER 6" $9.21 $101.31
317-PG 9 DIAG CUTTERS 7" $10.59 $95.31
3205-M 70 WRENCH 5.5MM $2.44 $170.80
3206 57 WRENCH 3/16 $2.74 $156.18
3207-M 51 WRENCH 7MM $2.81 $143.31
3208 45 WRENCH 1/4 $2.67 $120.15
3208-M 41 WRENCH 8MM $2.96 $121.36
3209 35 WRENCH 9/32" $2.74 $95.90
3209-M 92 WRENCH 9MM $3.06 $281.52
3210 61 WRENCH 5/16 $3.03 $184.83
3210-M 44 WRENCH 10MM $3.23 $142.12
3211 74 WRENCH 11/32" $2.87 $212.38
3211-M 53 WRENCH 11MM $3.30 $174.90
3212 87 WRENCH 3/8 $3.28 $285.36
3212-M 28 WRENCH 12MM $3.60 $100.80
3213-M 43 WRENCH 13MM $3.84 $165.12
3214 80 WRENCH 7/16 $3.41 $272.80
Page Number: 13
ID Number******Quantity******Description*********************Cost*****Ext Cost*
3214-M 44 WRENCH 14MM $4.01 $176.44
3215-M 38 WRENCH 15MM $4.31 $163.78
3216 72 WRENCH 1/2 $3.76 $270.72
3216-M 52 WRENCH 16MM $4.67 $242.84
3217-M 56 WRENCH 17MM $5.16 $288.96
3218 61 WRENCH 9/16 $4.01 $244.61
3218-M 28 WRENCH 18MM $5.30 $148.40
3219-M 64 WRENCH 19MM $5.91 $378.24
3220 62 WRENCH 5/8 $4.48 $277.76
3222 79 WRENCH 11/16 $5.10 $402.90
3224 73 WRENCH 3/4 $5.65 $412.45
3226 66 WRENCH 13/16 $6.17 $407.22
3228 70 WRENCH 7/8 $7.63 $534.10
3230 55 WRENCH 15/16 $9.31 $512.05
3232 46 WRENCH 1" $10.18 $468.28
3234 49 WRENCH 1-1/16 $13.09 $641.41
3236 46 WRENCH 1-1/8 $14.94 $687.24
3240 43 WRENCH 1-1/4 $17.69 $760.67
3242 10 WRENCH 1-5/16" $25.45 $254.50
3244 14 WRENCH 1-3/8" $29.53 $413.42
3246 17 WRENCH 1-7/16" $34.54 $587.18
3248 7 WRENCH 1-1/2" $37.17 $260.19
3252 15 WRENCH 1-5/8 $41.10 $616.50
3254 18 WRENCH 1-11/16 $45.55 $819.90
3256 19 WRENCH 1-3/4" $52.21 $991.99
3258 11 WRENCH 1-13/16 $53.71 $590.81
3260 13 WRENCH 1-7/8 $61.60 $800.80
3264 9 WRENCH 2" $66.22 $595.98
337-PG 8 PLIER GROOVE JOINT 7" $9.40 $75.20
3410-M 9 WRENCH 10MM $4.50 $40.50
3411-M 6 WRENCH 11MM $5.70 $34.20
3412 10 WRENCH 3/8 $6.20 $62.00
3412-M 3 WRENCH 12MM $5.13 $15.39
3414 7 WRENCH 7/16 $5.55 $38.85
3414-M 4 WRENCH 14MM $5.55 $22.20
3416 11 WRENCH 1/2" $6.97 $76.67
3417-M 6 WRENCH 17MM $6.19 $37.14
3418 11 WRENCH 9/16" $7.45 $81.95
3419-M 12 WRENCH 19MM $6.97 $83.64
342-PG 18 PLIER GROOVE JOINT 12" $16.39 $295.02
3420 12 WRENCH 5/8 $8.14 $97.68
Page Number: 14
ID Number******Quantity******Description*********************Cost*****Ext Cost*
3422 1 WRENCH 11/16 $8.71 $8.71
3424 1 WRENCH 3/4" $10.17 $10.17
366-PG 18 PLIER SLIP JOINT 6" $5.54 $99.72
368-PG 14 PLIER SLIP JOINT 8" $7.53 $105.42
400 9 WRENCH HOLDER $3.52 $31.68
4006-M 81 WRENCH 6 X 7MM $2.63 $213.03
4008-M 74 WRENCH 8 X 9MM $2.90 $214.60
4010-M 52 WRENCH 10 X 11MM $3.24 $168.48
4012 47 WRENCH 1/4 X 5/16 $3.00 $141.00
4012-M 49 WRENCH 12 X 13MM $3.41 $167.09
4014-M 64 WRENCH 14 X 15MM $3.90 $249.60
4017 47 WRENCH 3/8 X 7/16 $3.06 $143.82
4017-M 82 WRENCH 17 X 19MM $4.04 $331.28
4020 16 WRENCH 7/16 X 1/2" $3.24 $51.84
4023 38 WRENCH 1/2 X 9/16 $3.70 $140.60
4026 64 WRENCH 9/16 X 5/8 $3.81 $243.84
4031 22 WRENCH 5/8 X 11/16" $4.32 $95.04
4032 48 WRENCH 5/8 X 3/4 $5.17 $248.16
4035 71 WRENCH 11/16 X 13/16] $4.92 $349.32
4037 5 WRENCH 3/4 X 13/16" $5.10 $25.50
4038 51 WRENCH 3/4 X 7/8 $5.50 $280.50
4041 66 WRENCH 13/16 X 7/8 $6.55 $432.30
4043 5 WRENCH 7/8 X 15/16 $9.60 $48.00
4046 47 WRENCH 15/16 X 1" $8.67 $407.49
4048 3 WRENCH 15/16 $10.35 $31.05
4050 4 WRENCH 1X1-1/8 $10.35 $41.40
4053 1 WRENCH OPEN END $6.43 $6.43
4055 3 WRENCH $6.43 $19.29
4090 9 5PC WRENCH SET SAE $15.74 $141.66
4092 1 6PC WRENCH SET SAE $30.02 $30.02
4094 8 6PC WRENCH SET 6 - 19MM $19.12 $152.96
4095 7 7PC WRENCH SET SAE $30.02 $210.14
4103 2 IGNITION WRENCH 15/64 X 13/64 $1.68 $3.36
4104 3 IGNITION WRENCH 1/4 X 7/32 $1.68 $5.04
4106 8 IGNITON WRENCH 5/16 X 9/32 $1.68 $13.44
4109 40 8PC WRENCH IGNITION SET $12.79 $511.60
4250 1 TORQUE WRENCH 3/8" $36.72 $36.72
4252 4 WRENCH $10.80 $43.20
4254 13 TORQUE WRENCH BEAM TYPE 1/2" $38.64 $502.32
4260 1 MICOMETER ADJ $94.75 $94.75
4270 2 MICROMETER ADJ $100.00 $200.00
Page Number: 15
ID Number******Quantity******Description*********************Cost*****Ext Cost*
436-PG 5 PLIER FLAT NOSE 6" $7.37 $36.85
450 1 3/8"DR SOCKET HOLDER $2.41 $2.41
4508 3 8PC TAPPET WRENCH SET $60.62 $181.86
4520 52 WRENCH TAPPET 7/16 X 1/2 $3.42 $177.84
4523 34 WRENCH TAPPET 1/2 X 9/16 $3.72 $126.48
4531 58 WRENCH TAPPET 5/8 X 11/16 $4.17 $241.86
4538 38 WRENCH TAPPIT 3/4 X 7/8 $5.43 $206.34
460 1 1/2" DRIVE SKT HOLDER $2.41 $2.41
4812 51 WRENCH 1/4DR 12PT CRWFT 3/8 $4.83 $246.33
4814 48 WRENCH 1/4DR 12PT CRWFT 7/16" $4.89 $234.72
4816 23 WRENCH 1/4DR 12PT CRWFT 1/2" $5.31 $122.13
4818 45 WRENCH 1/4DR CRWFT 12PT 9/16" $5.92 $266.40
4820 32 WRENCH 3/8DR 12PT CRWFT 5/8 $6.15 $196.80
4824 35 WRENCH 3/8DR 12PT CRWFT3/4" $6.57 $229.95
4826 61 WRENCH 3/8DR 12PT CRWFT 13/16" $6.78 $413.58
4828 39 WRENCH 3/8DR 12PT CRWFT 7/8" $7.47 $291.33
4830 40 WRENCH 3/8DR 12PT CRWFT 15/16" $7.92 $316.80
4832 49 WRNCH 3/8 12PT CRWFT 1" $8.53 $417.97
4836 42 WRENCH 1/2DR 12PT CRWFT 1-1/8 $9.25 $388.50
4840 32 WRENCH 1/2DR 12PT CRWFT 1-1/4 $9.75 $312.00
4844 40 WRENCH 1/2DR 21PT CRWFT 1-3/8 $10.23 $409.20
506-PG 16 PLIER LINEMANS CUTT 7" PLAS GR $11.52 $184.32
507-PG 40 PLIER LINEMANS CUTT 6" $11.52 $460.80
508-PG 5 PLIER LINEMANS 8" $12.67 $63.35
5108 17 PIPE WRENCH 8" $7.73 $131.41
5110 15 PIPE WRENCH 10" $10.10 $151.50
5114 20 PIPE WRENCH 14" $16.95 $339.00
5118 13 PIPE WRENCH 18" $20.69 $268.97
5124 28 WRENCH PIPE 24" $34.83 $975.24
5308 14 FILE 8" $3.12 $43.68
5310 1 FILE 4" $2.49 $2.49
5312 17 FILE 12" $5.35 $90.95
5312-C 1 12" FILE $5.64 $5.64
5328 4 FILE 8" $3.90 $15.60
5330 22 FILE 10" $5.52 $121.44
5338 8 FILE 8" $5.70 $45.60
5338-C 2 FILE 8" $6.00 $12.00
5340 13 FILE $6.63 $86.19
5340-C 4 10" FILE $5.11 $20.44
5346 29 FILE 6" $2.32 $67.28
5348 7 FILE 8" $3.30 $23.10
Page Number: 16
ID Number******Quantity******Description*********************Cost*****Ext Cost*
5348-C 1 FILE 8" $2.57 $2.57
5350 10 FILE 10" $4.32 $43.20
5350-C 1 10" FILE $3.71 $3.71
5354 34 FILE CHAIN SAW 1/8 X 6" $3.06 $104.04
5355 7 FILE CHAINSAW 5/32 X 6" $3.06 $21.42
5356 13 FILE CHAINSAW 3/16 X 8" $3.06 $39.78
5357 7 FILE CHAINSAW 7/32 X 8 $3.06 $21.42
5358 15 FILE CHAINSAW 1/4 X 8" $3.21 $48.15
5365 5 FILE 5" $1.54 $7.70
5366 17 FILE 6" $1.90 $32.30
5367 17 FILE 7" $1.84 $31.28
5376 19 FILE 6" $1.69 $32.11
5377 16 FILE 7" $2.18 $34.88
5388 13 WOOD RASP 8" $5.14 $66.82
5390 14 WOOD RASP $6.90 $96.60
5394 15 RASP FLAT HORSE $12.10 $181.50
606-PG 28 PLIER LG CHN NOSE 6" PLAS GIRI $9.34 $261.52
607-PG 17 PLIER LG CHNL 7" $11.52 $195.84
617-PG 11 PLIER LG CHNNOSE 7" $8.37 $92.07
6202 38 3/8DR 4PT SQ-OIL GALLERY 1/4" $2.82 $107.16
6207 37 7PC 3/8DR SKT RG IMP SET W/TRA $10.28 $380.36
6210 45 3/8 6PT IMP 5/16" $1.60 $72.00
6212 83 3/8DR 6PC SKT STD IMP 3/8 $1.60 $132.80
6214 41 3/8 6PT IMP 7/16" $1.62 $66.42
6216 70 3/8DR 6PT STD IMP 1/2 $1.74 $121.80
6218 65 3/8 6PT STD IMP 9/16 $1.95 $126.75
6220 78 3/8 6PT STD IMP 5/8 $1.95 $152.10
6222 74 3/8 6PT STD IMP 11/16 $1.95 $144.30
6224 71 3/8 6PT IMP 3/4 $2.02 $143.42
6310 54 3/8 6PT IMP 5/16 $2.61 $140.94
6312 62 3/8 6PT IMP 3/8 $2.62 $162.44
6314 48 3/8 6PT IMP 7/16 $2.80 $134.40
6316 42 3/8 6PT IMP 1/2 $2.80 $117.60
6318 35 3/8 6PT IMP DEEP 9/16 $2.85 $99.75
6320 53 3/8 6PT IMP DEEP 5/8 $2.88 $152.64
6322 59 3/8 6PT IMP DEEP 11/16 $2.88 $169.92
6324 62 3/8 6PT IMP 3/4 $2.92 $181.04
636-PG 2 NEEDLE NOSE PLIER 6" $10.14 $20.28
6408 22 8PC IMPACT SET 7/16 TO 7/8 $20.39 $448.58
6413-M 58 1/2 6PT IMP 13MM $2.47 $143.26
6414 71 1/2 6PT IMP 7/16 $2.32 $164.72
Page Number: 17
ID Number******Quantity******Description*********************Cost*****Ext Cost*
6414-M 51 1/2 6PT IMP 14MM $2.50 $127.50
6415-M 34 1/2 6PT IMP 15MM $2.58 $87.72
6416 71 1/2 6PT IMP 1/2" $2.47 $175.37
6416-M 42 1/2 6PT IMP 16MM $2.62 $110.04
6417-M 34 1/2 6PT IMP 17MM $2.67 $90.78
6418 44 1/2 6PT IMP 9/16 $2.47 $108.68
6418-M 28 1/2 6PT IMP 18MM $3.07 $85.96
6419-M 41 1/2 6PT IMP 19MM $3.07 $125.87
6420 57 1/2 6PT IMP 5/8 $2.55 $145.35
6422 60 1/2 6PT IMP 11/16 $2.67 $160.20
6424 50 1/2 6PT IMP 3/4 $2.82 $141.00
6426 52 1/2 6PT IMP 13/16 $3.23 $167.96
6428 45 1/2 6PT IMP 7/8 $3.22 $144.90
6430 34 1/2 6PT IMP 15/16 $3.30 $112.20
6432 59 1/2 6PT IMP 1" $3.52 $207.68
646-PG 9 PLIER CHANNEL NOSE 6" $8.92 $80.28
6461 33 1/2 IMPACT EXTN BAR 3" $5.02 $165.66
6462 34 1/2 IMPACT EXTN BAR 6" $5.70 $193.80
6501 38 1/2 DBL END 3/4 3/4 X 13/16 $5.77 $219.26
6502 39 1/2 DBL END 19 X 21MM $5.47 $213.33
6508 1 8PC IMP SET SAE $20.39 $20.39
6513-M 45 1/2 6PT DEEP IMPACT 13MM $4.27 $192.15
6514 51 1/2 6PT DP IMP 7/16 $4.12 $210.12
6514-M 48 1/2DR 6PT DP IMP 14MM $4.32 $207.36
6515-M 29 1/2 6PT DEEP IMPACT 15MM $4.42 $128.18
6516 44 1/2 6PT DP IMP 1/2 $4.27 $187.88
6516-M 56 1/2 6PT DEEP IMPACT 16MM $4.50 $252.00
6517-M 42 1/2 6PT DEEP IMP 17MM $4.77 $200.34
6518 69 1/2 6PT DEEP IMPACT 9/16 $4.71 $324.99
6518-M 50 1/2 6PT DEEP IMPACT 18MM $5.07 $253.50
6519-M 31 1/2 6PT DEEP IMP 19MM $5.02 $155.62
6520 34 1/2 6PT DEEP IMPACT 5/8 $4.90 $166.60
6522 48 1/2 6PT DEEP IMPACT 11/16 $5.03 $241.44
6524 38 1/2 6PT DP IMP 3/4 $5.02 $190.76
6526 29 1/2 6PT DP IMP 13/16 $5.10 $147.90
6528 39 1/2 6PT DP IMP 7/8 $5.47 $213.33
6530 29 1/2 6PT DP IMP 15/16 $5.85 $169.65
6532 29 1/2 6PT DP IMP 1" $6.37 $184.73
6541 5 6PC 1/2"DRV DP IMP SKT SET MET $25.93 $129.65
656-PG 16 NEEDLE NOSE PLIER 6" $10.38 $166.08
6608 1 7PC 1/2" U-JOINT SKT SET $65.19 $65.19
Page Number: 18
ID Number******Quantity******Description*********************Cost*****Ext Cost*
6613-M 48 1/2 6PT IMP U-JT 13MM $6.16 $295.68
6614-M 47 1/2 6PT IMP U-JT 14MM $6.19 $290.93
6615-M 50 1/2 6PT IMP U-JT 15MM $6.58 $329.00
6616-M 14 1/2 6PT IMP U-JOINT 16MM $7.05 $98.70
6617-M 56 1/2 6PT IMP U-JOINT 17MM $7.21 $403.76
6618-M 4 1/2 6PT IMP U-JOINT 18MM $7.27 $29.08
6619-M 51 1/2 6PT IMP U-JT 19MM $7.39 $376.89
6621-M 52 1/2 6PT IMP U-JT 21MM $7.57 $393.64
6622-M 49 1/2 6PT IMP U-JT 22MM $8.17 $400.33
667-PG 3 END NIPPERS 7" $14.47 $43.41
6675 50 1/2 6PT IMP U-JT 1/2 $9.41 $470.50
6676 35 1/2 6PT IMP U-JT 9/16 $9.41 $329.35
6677 47 1/2 6PT IMP U-JT 5/8 $9.81 $461.07
6678 41 1/2 6PT IMP U-JT 11/16 $10.61 $435.01
6679 34 1/2 6PT IMP U-JT 3/4 $10.50 $357.00
6680 52 1/2 6PT IMP U-JT 15/16 $10.80 $561.60
6681 46 1/2 6PT IMP U-JT 7/8 $11.25 $517.50
6724 3 3/4" 6PT IMP 3/4" $7.50 $22.50
6726 1 3/4" 6PT IMP 13/16" $7.65 $7.65
6728 5 3/4" 6PT IMP 7/8 $7.80 $39.00
6730 2 3/4 6PT IMP 15/16 $7.95 $15.90
6732 4 3/4 6PT IMP 1" $8.10 $32.40
6734 1 3/4" 6PT IMPACT 1-1/16 $8.25 $8.25
6736 3 3/4" 6PT IMP 1-1/8 $8.55 $25.65
6738 4 3/4 6PT IMP 1-3/16 $8.70 $34.80
6740 1 3/4 6PT IMP 1-1/4 $9.00 $9.00
6742 3 3/8" 6PT IMP 1-5/16 $9.75 $29.25
6744 5 3/4 6PT IMP 1-3/8 $10.50 $52.50
6746 3 3/4" 6PT IMP 1-7/16 $11.25 $33.75
6757 4 3/4" ADAPTOR 3/4 X 1" $14.99 $59.96
6761 3 3/4" EXTN BAR 7" $16.79 $50.37
6762 3 3/4" EXTN BAR 10" $19.49 $58.47
6770 3 3/4DRV UNIVERSAL JOINT $32.18 $96.54
6776 3 3/4"DRV SKT BUDD WHL DP DBL OP $22.49 $67.47
6780 4 3/4" SOCKET BUDD WHL DP 13/16" $16.00 $64.00
6824 4 3/4" 6PT DP IMP 3/4" $11.62 $46.48
6826 2 3/4" 6PT DP IMP 13/16 $11.77 $23.54
6828 3 3/4" 6PT DP IMP 7/8 $11.92 $35.76
6830 3 3/4" 6PT DP IMP 15/16" $12.07 $36.21
6832 3 3/4" 6PT DP IMP 1" $12.30 $36.90
6834 2 3/4" 6PT DP IMP 1-1/16 $12.67 $25.34
Page Number: 19
ID Number******Quantity******Description*********************Cost*****Ext Cost*
6838 3 3/4" 6PT DP IMP 1-3/16" $13.42 $40.26
6840 1 3/4" 6PT DP IMP 1-1/4 $13.94 $13.94
6842 1 3/4 6PT DP IMP 1-5/16 $14.54 $14.54
6844 3 3/4" 6PT DP IMP 1-3/8 $14.99 $44.97
6846 3 3/4 6PT DP IMP 1-7/16 $16.49 $49.47
6848 1 3/4"DRV 6PT DP IMP 1-1/2" $17.99 $17.99
687-PG 2 END NIPPERS 7" $12.12 $24.24
6890 5 3/4DR RET RG & PIN/PCH 5 X 36M $1.56 $7.80
6892 4 3/4DRV RET RG & PIN/PCH 5 X 43 $1.56 $6.24
6894 4 3/4 RET RG & PIN/PCH 5 X 50MM $1.56 $6.24
6948 1 1"DRV 6PT SKT HEX 1-1/2 $15.38 $15.38
6982 4 1"DRV 4PT SKT BUDD WHL 13/16 $11.85 $47.40
6990 7 1"DRV RING & PIN 7X45MM $1.56 $10.92
6992 4 1" RET RNG & PIN/PCH 7 X 45MM $1.56 $6.24
703 6 3PC ADJ WRENCH SET $31.89 $191.34
704 26 WRENCH ADJUSTABLE 4" $8.13 $211.38
706 23 WRENCH ADJ. 6" $8.41 $193.43
708 13 ADJ. WRENCH 8" $9.87 $128.31
710 19 ADJ. WRENCH 10" $12.91 $245.29
7116 1 BOLT CUTTER 12" $41.98 $41.98
712 26 WRENCH ADJ. 12" $17.31 $450.06
7130 1 BOLT CUTTER 30" $66.46 $66.46
7130-H 1 BOLT CUTTER REPLACEMENT 30" $31.97 $31.97
7136 2 BOLT CUTTER 36" $85.35 $170.70
715 16 ADJ. WRENCH 15" $29.03 $464.48
718 33 ADJUSTABLE 18" WRENCH $48.14 $1,588.62
7402 5 TIE ROD PULLER $17.11 $85.55
7410 1 PULLER JAW SLIDE HAMMER SET $75.30 $75.30
7412 3 PULLER STEERING WHEEL $18.36 $55.08
7414 3 INSTALLER HARMONIC BALANCER $25.85 $77.55
7418 4 PULLER PITMAN ARM $24.48 $97.92
7420 3 PULLER PITMAN COMPACT ARM $21.95 $65.85
7422 3 PULLER AXLE FLANGE TYPE $43.11 $129.33
7424 1 PULLER 2 JAW ADJ. 4" $19.28 $19.28
7427 2 2JAW ADJ 7" $29.19 $58.38
7429 3 PULLER 2JAW REVR 9" $48.27 $144.81
7430 3 PULLER 2JAW ADJ 10" $47.78 $143.34
7434 1 PULLER 3JAW ADJ 4" $26.60 $26.60
7437 1 PULLER 2 END 3 JAW REVR. COMB $39.40 $39.40
7438 2 PULLER 2 & 3 JAW ADJ COMBO 8" $42.94 $85.88
7440 2 PULLER 2 & 3 JAW REVR COMBO 10 $72.21 $144.42
Page Number: 20
ID Number******Quantity******Description*********************Cost*****Ext Cost*
7441 2 PULLER 2 & 3 JAW ADJ COMBO 11" $68.06 $136.12
806 12 ADJ WRENCH 6" $11.64 $139.68
808 14 WRENCH RATCHING ADJ 8" $16.40 $229.60
810 6 WRENCH ADJ 10" $13.72 $82.32
812 1 ADJ WRENCH 12" $18.65 $18.65
8400 2 CLAW HAMMER 16OZ $12.94 $25.88
8473 17 HAMMER CLAW 16OZ $12.94 $219.98
8474 22 16OZ CLAW HAMMER $12.94 $284.68
8475 16 CLAW HAMMER 20OZ $15.26 $244.16
8508 28 BALL PEEN 8OZ $11.44 $320.32
8512 26 BALL PEEN HAMMER 12OZ $12.22 $317.72
8516 15 BALL PEEN HAMMER 16.OZ $12.88 $193.20
8524 19 BALL PEEN HAMMER 24.OZ $15.34 $291.46
8532 11 HAMMER BALL PEEN 32OZ $18.01 $198.11
8554 1 HAMMER SLEDGE 4LB $18.32 $18.32
8562 1 SLEDGE HAMMER 10LB $37.96 $37.96
8581 27 RUBBER MALLET $4.84 $130.68
8582 20 MALLET RUBBER 32OZ $6.03 $120.60
8585 3 HAMMER DEAD BLOW 1.5 $18.05 $54.15
8586 3 HAMER DEAD BLOW 2.25LB $25.97 $77.91
8590 3 HAMMER COPPER TIPPED 2.50LB $19.22 $57.66
8592 3 BRASS DRIFT PIN 10 X 3/4" 1.25 $9.99 $29.97
8594 4 BRASS DRIFT PIN 12X1" 3.25LB $15.89 $63.56
8601 24 12PC PUNCH/CHISEL SET $37.68 $904.32
8604 1 4PC CHISEL SET $14.98 $14.98
8605 34 5PC PUNCH/CHISEL SET $16.24 $552.16
8610 44 CHISEL 5/16 X 5" $2.67 $117.48
8612 56 CHISEL 3/8 X 5" $2.73 $152.88
8614 27 CHISEL 1/2 X 6" $3.03 $81.81
8616 38 CHISEL 5/8 X 6" $3.73 $141.74
8618 39 CHISEL 3/4 X 7" $4.18 $163.02
8620 35 CHISEL 7/8 X 8" $5.67 $198.45
8622 38 CHISEL 1" X 9" $6.95 $264.10
8633 51 CHISEL 1/4 X 6" $3.17 $161.67
8636 70 PUNCH 3/16" X 5" $3.06 $214.20
8638 55 PUNCH 1/4 X 6" $3.11 $171.05
8642 43 PUNCH 3/16 X 5" $2.30 $98.90
8643 45 PUNCH 3/16 X 10" $4.86 $218.70
8646 42 PUNCH 1/4 X 3-1/2" $2.83 $118.86
8647 33 PRICK PUNCH 3/8 X 5 1/2" $3.37 $111.21
8648 36 PRICK PUNCH 1/2 X 6" $2.74 $98.64
Page Number: 21
ID Number******Quantity******Description*********************Cost*****Ext Cost*
8663 34 PUNCH 3/32 X 4" $4.66 $158.44
8664 47 PUNCH 1/8 X 4" $3.03 $142.41
8665 43 PUNCH 5/32 X 4" $3.11 $133.73
8666 49 PUNCH 3/16 X 4" $3.13 $153.37
8667 48 PUNCH 7/32 X 4" $3.26 $156.48
8668 62 PUNCH 1/4 X 4" $3.36 $208.32
927-C 10 PLIER LOCKING GRIP 7" $9.42 $94.20
927-S 6 PLIER LOCKING GRIP 7" $8.45 $50.70
930-C 36 PLIER LOCK GRIP 10" $9.61 $345.96
930-S 12 PLIER LOCKING 10" $10.14 $121.68
9302 17 8PC TORX INSERT BIT $14.96 $254.32
9304 11 10PC TORX BIT SET $26.64 $293.04
9310 21 TORX T-15 $1.23 $25.83
9312 19 TORX T-20 $1.23 $23.37
9314 7 TORX T-25 $1.23 $8.61
9316 3 TORX T-27 $1.23 $3.69
9318 19 TORX T-30 $1.23 $23.37
9320 23 TORX T-40 $1.23 $28.29
9322 16 TORX T-30 $1.37 $21.92
9324 4 TORX T-40 $1.37 $5.48
9326 7 TORX T-45 $1.37 $9.59
9328 5 TORX T-50 $1.37 $6.85
9330 16 BIT SPECIAL DRIVE STRIKER HX S $1.44 $23.04
9332 9 TORX T-55 $1.70 $15.30
9334 16 TORX T-20 $1.91 $30.56
9336 20 TORX T-15 $1.91 $38.20
9338 18 TORX T-20 $1.91 $34.38
9340 17 TORX T-25 $1.91 $32.47
9342 7 TORX T-27 $1.91 $13.37
9344 14 TORX T-30 $1.91 $26.74
9346 15 TORX T-40 $1.91 $28.65
9347 5 TORX T-45 $2.09 $10.45
9350 16 TORX T-10 $2.24 $35.84
9352 24 TORX T-30 $2.24 $53.76
9354 19 TORX T-35 $2.86 $54.34
9356 13 TORX T-25 SKT $2.24 $29.12
9358 19 TORX T-15 $2.24 $42.56
9360 18 TORX T-20 $2.24 $40.32
9362 3 SKT T-25 $2.25 $6.75
9364 11 SKT T-27 $2.25 $24.75
9366 18 SKT T-30 $2.29 $41.22
Page Number: 22
ID Number******Quantity******Description*********************Cost*****Ext Cost*
9368 2 TORX T-40 $3.27 $6.54
9370 9 SKT T-45 $3.28 $29.52
9371 1 TORX T-47 $3.28 $3.28
9372 8 SKT T-50 $3.28 $26.24
9374 6 SKT T-55 $3.28 $19.68
9375 7 SKT T-60 $5.64 $39.48
9376 18 TORX E-6 $2.25 $40.50
9378 11 TORX E-7 $2.25 $24.75
9380 14 TORX E-8 $2.25 $31.50
9382 21 TORX E-10 $2.67 $56.07
9384 11 TORX E-12 $2.67 $29.37
9386 19 TORX E-14 $2.67 $50.73
9388 29 TORX E-16 $2.67 $77.43
9390 12 WRENCH BOX E-8 X E-10 $3.72 $44.64
9400 23 6PC TORX SET $19.29 $443.67
9407 2 SDRIVER TORX T-7 $3.23 $6.46
9408 13 SDRIVER TORX T-8 $3.31 $43.03
9409 44 TORX T-9 $3.31 $145.64
9410 47 TORX T-10 $3.31 $155.57
9415 32 TORX T-15 $3.35 $107.20
9420 55 TORX T-20 $3.35 $184.25
9425 62 TORX T-25 $3.39 $210.18
9427 66 TORX T-27 $3.45 $227.70
9430 81 TORX T-30 $3.45 $279.45
9432 26 SDRIVER TORX TIP T-15 $7.80 $202.80
9485 35 SCREWDRIVER CLUTCHHEAD 5/32" $3.72 $130.20
9486 55 SCREWDRIVER CLUTCH-HEAD 3/16 $3.72 $204.60
9488 44 SCREWDRIVER CLUTCH HEAD 1/4" $3.72 $163.68
9490 59 SCREWDRIVER CLUTCH-HEAD 5/16 $3.72 $219.48
9594 7 SDRIVER 1/4 FLAT TIP $1.02 $7.14
9595 5 SDRIVER OFFSET 3/16 FLAT $1.47 $7.35
9597 8 SCREWDRIVER PHIL #1 $1.05 $8.40
9598 8 SDRIVER #3 PHILLIPS $1.47 $11.76
9600 12 8 PC RATCHETING SCDR/BIT SET C $21.09 $253.08
9600-B 13 RATCHET DRIVE HDL MAG $12.55 $163.15
9601 111 SCREWDRIVER 1/8" X 3" $2.00 $222.00
9602 55 FLAT TIP SCREWDRIVER 3/16 X 4" $2.08 $114.40
9603 41 SCREWDRIVER FLAT 3/16 X 6" $2.58 $105.78
9604 31 SCREWDRIVER FLAT 1/4 X 4" $3.11 $96.41
9605 38 FLAT SCREWDRIVER 1/4 X 6" $3.18 $120.84
9607 48 FLAT SCREWDRIVER 5/16 X 6" $3.48 $167.04
08-06-1997 Page Number: 23
ID Number******Quantity******Description*********************Cost*****Ext Cost*
9610 55 SCREWDRIVER FLAT 3/8 X 8" $5.33 $293.15
9665 14 5PC SDRIVER SET $11.94 $167.16
9667 32 7PC SCREWDRIVER SET $17.91 $573.12
9669 1 9PC SDRIVER SET $29.45 $29.45
9670 3 12PC SDRIVER SET $38.13 $114.39
9671 34 SCREWDRIVER PHIL #2 $2.41 $81.94
9675 34 SCREWDRIVER PHIL #1 $2.66 $90.44
9676 39 SCREWDRIVER PHIL #2 $3.24 $126.36
9679 47 SCREWDRIVER #3 $5.53 $259.91
9751 48 FLAT SCREWDRIVER 1/4 X 4" $2.94 $141.12
9752 59 FLAT SCREWDRIVER 5/16 X 6" $4.33 $255.47
9753 41 SCREWDRIVER 3/8X 8" $4.81 $197.21
9754 42 SCWDR FLAT TIP 3/8 X 10" $7.23 $303.66
9771 43 FLAT SCREWDRIVER 1/4 X 1 1/2" $3.03 $130.29
9776 1 SCREWDRIVER 1/4 X 1-1/2" $3.03 $3.03
9805 6 5PC TOOL SET $18.15 $108.90
9901 6 7PC NUT DRIVER SAE SET $22.73 $136.38
9903 21 7PC NUT DRIVER SET METRIC $16.44 $345.24
9905-M 72 NUTDRIVER 5MM $2.32 $167.04
99050 1 15PC SAE BASIC SKT SET $14.13 $14.13
99051 1 13PC SAE SKT SET $16.15 $16.15
99055 1 9PC METRIC DEEP SKT SET $14.88 $14.88
99056 2 22PC SAE COMBO SKT $19.78 $39.56
99057 1 22PC METRIC COMBO SET $19.78 $19.78
99059 1 9PC SAE DEEP SKT SET $20.00 $20.00
9906 74 NUTDRIVER 3/16 $2.07 $153.18
9906-M 81 NUTDRIVER 6MM $2.32 $187.92
9907 71 NUTDRIVER 7/32 $2.07 $146.97
9907-M 24 NUTDRIVER 7MM $2.50 $60.00
9908 43 NUTDRIVER 1/4 $2.32 $99.76
9908-M 50 NUTDRIVER 8MM $2.55 $127.50
99080 1 9PC SKT SET $6.01 $6.01
99081 2 10PC SKT SET SAE $7.42 $14.84
99082 1 10PC SKT SET METRIC $7.42 $7.42
99083 1 4PC TUNE UP KIT $11.15 $11.15
9909 38 NUTDRIVER 9/32" $2.32 $88.16
9909-M 73 NUTDRIVER 9MM $2.81 $205.13
9910 44 NUTDRIVER 5/16 $2.32 $102.08
9910-M 44 NUTDRIVER 10MM $2.65 $116.60
9911 72 NUTDRIVER 11/32 $2.40 $172.80
9912 52 NUTDRIVER 3/8" $2.50 $130.00
Page Number: 24
ID Number******Quantity******Description*********************Cost*****Ext Cost*
9914 11 NUT DRIVER 7/16" $2.73 $30.03
9916 4 NUT DRIVER 1/2 $2.86 $11.44
9955-M 28 NUT DRIVER 5.5MM $2.32 $64.96
AS100 444 5PC SAE WRENCH SET $15.00 $6,660.00
----------- -----------